PROVIDE
We are progressing to become a global leader through continuous technology development and quality innovation.
1/4
KOSTEEL
super wire mesh™
SUPER WIRE MESH™

This is a grid-type sheet with horizontal and vertical lines arranged at right angles in which the intersections are joined by electric resistance welding by using high-strength iron wires produced directly by KOSTEEL.
Wires for welded wire mesh are classified into round wire and deformed wire. Depending on the steel bars and wire used for welded wire mesh, our products are also classified into circular welded wire mesh, deformed welded wire mesh, and steel bar welded wire mesh.
KOSTEEL Super Wire Mesh is managed through our one-line system encompassing tasks from material to production, product management and distribution, ensuring excellent productivity and quality control.
SUPER WIRE MESH™ SPEC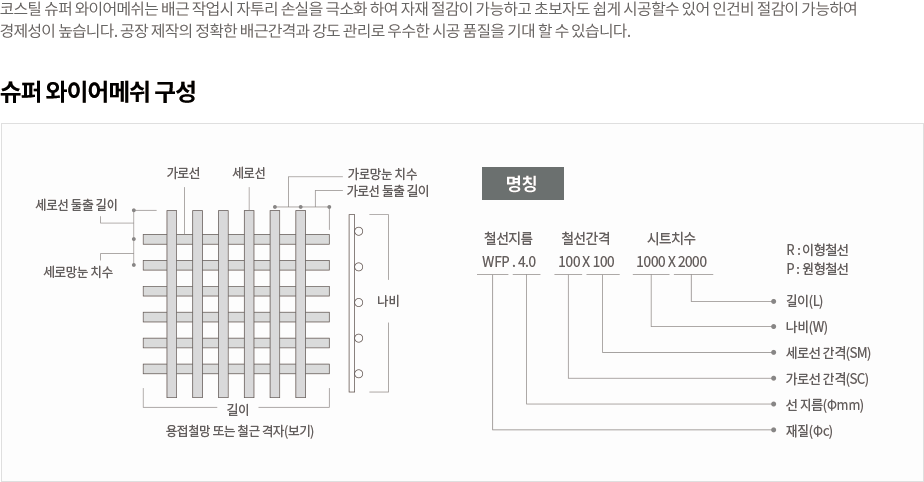 One-line System Management

From raw materials to material production and distribution management, KOSTEEL manages all processes through our one-lie system, resulting in excellent productivity and quality control.

Excellent Welding Quality

For welding in our super wire mesh production facilities, direct welding system is applied to each welding unit to secure high quality wire mesh welding performance.

Securing Economic Feasibility and Improving Constructability

We minimize the expenditure of materials by minimizing the loss of scraps during arrangement work. Our products are easy to construct even for beginners, which reduces labor cost for on-site placement, and optimizes economic efficiency.
Product Types
SUPER WIRE MESH™

Circular welded wire mesh

SUPER WIRE MESH™

SUPER WIRE MESH™

SUPER WIRE MESH™

Steel bars welded wire mesh

SUPER WIRE MESH™

Custom roll wire mesh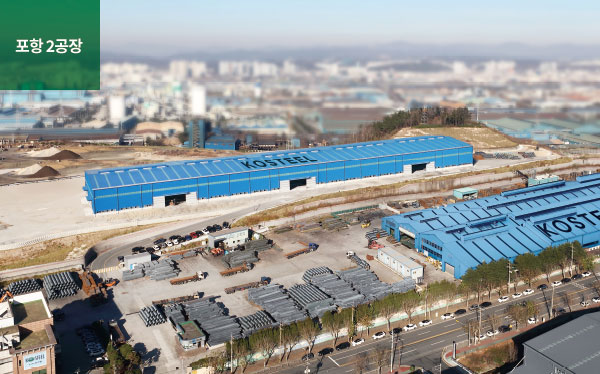 Production area :

Producing capability :

400,000 tons / year

Product certification status :

- Korean Industrial Standards㉿: KSD 3554 KSA 5835
- Japanese Industrial Standards(JIS): JIS G3505 KSKR 10024
- ISO 9001
- CE certification: NO.2133/3/2011 97/23/EC ANEX Ⅰ
- American Society for Testing and Materials(ASTM): ASTM A 751 #4753 ACCORDING TO A 510
Main production process


Where to use/How to use