PROVIDE
We are progressing to become a global leader through continuous technology development and quality innovation.
1/5
KOSTEEL
superdeck
SUPERDECK

Korea's first all-in-one deck, KOSTEEL Superdeck!
Our product has earned recognition for its excellence in safety and quality through the construction of high-rise buildings such as Tower Building 44F-123F in the 2nd Lotte World. We are constantly striving to develop new products, and we are continuously investing in product development and quality improvement.
We developed Superdeck, a material for floor slabs that does not require cast dismantling, for the first time in Korea and we are proud to offer excellent quality and performance based on our technology and know-how.
The Benchmark for Decks

We are setting the highest standard for decks in Korea, with Korea's first all-in-one deck.

Excellent raw materials

We use only the best steel products such as materials from POSCO, Hyundai Steel, and Dongkuk Steel.

ONE-LINE SYSTEM

We can perform tasks from raw material production to final product delivery in a single process, with our in-house mild steel wire rods.

Excellent patented technologies

We offer patented products made with KOSTEEL's unique technologies.
Stable Raw Material Supply Chain & Sales Network KOSTEEL has secured a stable raw material supply chain with POSCO with over 40 years of experience in our long-term supply relationship.

With a strong sales network of about 300 companies, mainly consisting of are loyal customers who are like family, we are able to efficiently cope with future sales expansion and perform market information sharing.
We are investing in the development of new products and innovative products to become not just a pioneer but the best company in Korea.

One-line System Quality and Production Management KOSTEEL operates one-line system from material production to product manufacturing, enabling high-quality production and excellent product control and quality and performance management.

Our self-produced mild steel wire rod accounts for 40% of the 900,000 tons of annual domestic mild steel wire rod demand and we have maintained our top position in the market. It is widely used in various industries, not only for civil engineering and construction, but also for consumer goods. In order to grow beyond being the first to become the best in Korea, we are investing in the development of new products and innovative products through our Technology Product Research Center.

KOSTEEL's Unique and Outstanding Product Technologies! KOSTEEL Superdeck, which launched the first Superdeck plate in Korea, is composed of patented products made with KOSTEEL's exclusive technology.

It promises the highest economic efficiency and quality, offers excellent workability, and minimizes construction time.
Among KOSTEEL products, the integrated deck has improved workability by extending the deck width (750 mm) for the first time in the industry, and patent certification was obtained for technology that minimizes concerns about existing defects by ensuring the non-exposure of welding points.

Trust and Loyalty with Customers for 44 Years! Superdeck, Korea's first all-in-one deck, represents our growth through quality management to repay the trust of our customers who have supported us during our continuous product development and investment for 44 years.

Safety is our top priority, and we are constantly dedicating attention and investing in quality and the environment.
In addition, we are striving to achieve mutual growth by operating services that solve customer inconveniences and support them through design and structural review support.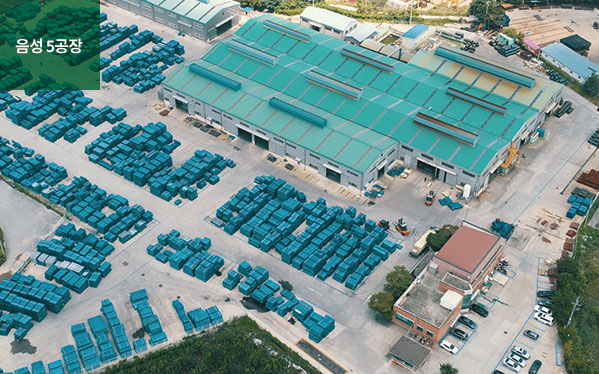 Production area :

Producing capability :

3.6 Million m²/year

Product certification status :

- Utility model registration certificate No. 20-0414699, Utility model registration certificate No. 20-0418121
- Utility model registration certificate No. 10-0729859, Utility model registration certificate No. 10-0729860
- Quality Management System (KSA_QMS-3350)...

Read More

Quality Management System(KSA_QMS-3350)
Patent_10-1463484호, 10-1460069호, 10-1463485, 10-1546914
Patent_10-1560753, 10-560758, 10-1560761,10-1855446
Construction performance