PROVIDE
We are progressing to become a global leader through continuous technology development and quality innovation.
1/5
KOSTEEL
SUPER BUNDREX®
BUNDREX®

BUNDREX® refers to steel processed into fibers with a small cross section and short length. It is a concrete reinforcement material that compensates for the physical shortcomings of existing concrete by being dispersed in three dimensions into concrete.
KOSTEEL's world-patented steel fiber for concrete reinforcement named BUNDREX® is produced through Korea's state of the art high-tech process. It is an ideal concrete reinforcement material that addresses the problem of the brittle fracture characteristics of concrete by creating ductile fracture characteristics and flexural toughness while preventing plastic shrinkage and drying shrinkage cracking.
BUNDREX SPEC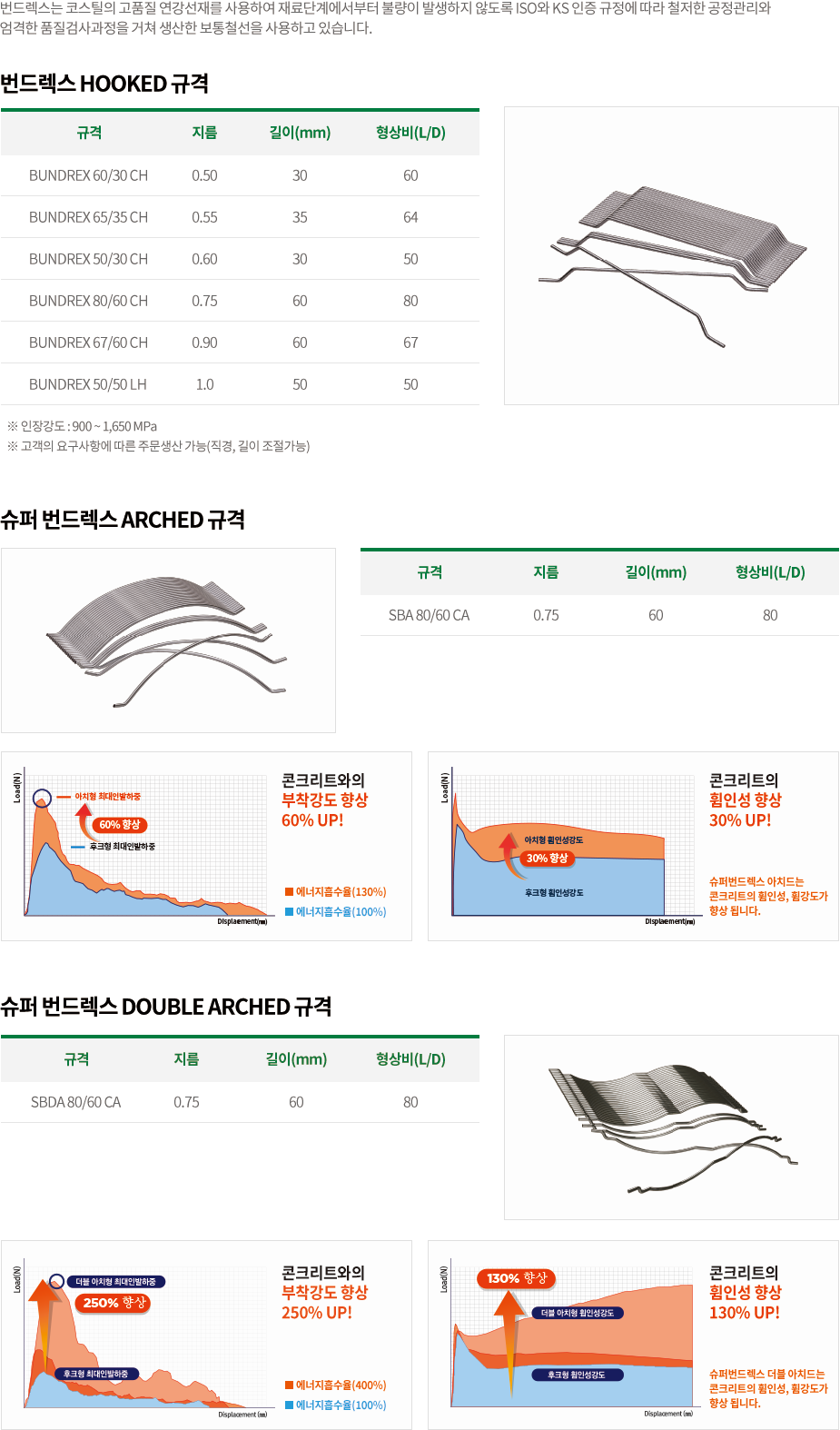 World's first arched patented product

Scientific improvement for a breakthrough innovation in SFRC structural stability This is the first arch-shaped patented product in Korea.

Concrete reinforcement with outstanding performance

By improving the adhesion strength and bending performance of concrete, cracks are reduced, and the thickness of concrete can be reduced.

Excellent economics through cost reduction

Reduce material costs! Save on equipment costs! Shorten construction time!
By casting directly from the ready-mix concrete vehicle without additional reinforcement work, construction cost can be reduced by 40%
BUNDREX® KOSTEEL has established a batch production process from wire rods to steel fiber BUNDREX® by applying the best wire drawing technology in Korea. We have occupied the first place in domestic market share with our technological superiority and cost competitiveness. BUNDREX,

the highest accomplishment in steel fiber technology that combines stability and economy, is widely used as a reinforcement for various floor slab concrete structures in civil engineering and construction fields.

SUPER BUNDREX® Arched Super BUNDREX® Arched sets the Korean standard in the field of JOINTLESS SOG with excellent crack prevention and structural stability!

Super BUNDREX Arched is a product that delivers excellent economic efficiency, including a 40% reduction in construction cost and a 60% reduction in construction time, by improving the structural stability and constructability of SFRC through enhancements in concrete energy absorption and bending performance made possible by enhanced adhesion to concrete.


SUPER BUNDREX® Double Arched Scientific high-tech form and breakthrough progress in SFRC structural stability through Double Arched!

Super BUNDREX Double Arched sets the Korean standard for special flooring and high-strength concrete that goes beyond the structural limits of SFRC.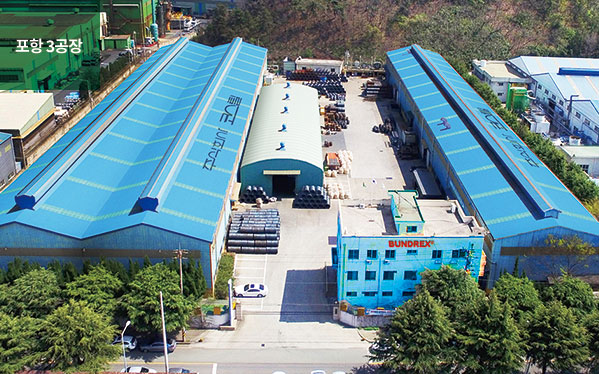 Production area :

Producing capability :

20,400 TON/년

Product certification status :

- ISO9001_Integrated Certificate of Approval_English_2019
- ISO9001_Certificate of Approval
- ISO14001_Certificate of Approval
- CE Certificate_EN14889-1

Read More

Product certification status :

- ISO9001_Integrated Certificate of Approval_English_2019
- ISO9001_Certificate of Approval
- ISO14001_Certificate of Approval
- CE Certificate_EN14889-1
- ASTM Approval of Supplier's Declaration of Conformity_A370-11
- JIS G3532_Wire_English_2019
- U.S. Patents No. Us 10,414,691 B2
- Notification of application number and application form (Steel Fiber)
- 10-2020-0122611_Notification of application number and application form (Synthetic)
- ASTM Approval of Supplier's Declaration of Conformity_A370-11
- SUPER BUNDREX_Domestic_Patent Certificate
- KS F2564_Steel fiber for concrete__Pohang No.3 Factory_20201109 (220421)
Where to use/How to use